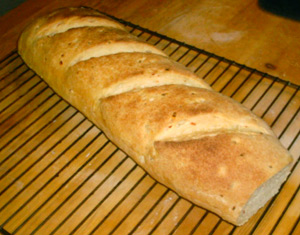 A nice bread that perhaps is more suitable for a picnic sandwich then it is for breakfast.
The chili and garlic gives it a nice flavor.
I made one big bread 🙂 but you can of course make smaller, recipe is suitable for making 4 breads in portion size sort of…

This is what you need:
10 grams of yeast
1 teaspoon salt
3 deciliters of water, around 37 degree celsius
1-3 clefts of garlic, depending on how much you like garlic, with one cleft you only get a vague flavor.
1-2 red chili peppers, it does not get "hot" if you use two, just more flavored.
wheat flour (didn't measure this part, add in until dough feels right)
1 tablespoon olive oil + a little for finishing touch
1. Chop the garlic and chili fine.
2. Crumble the yeast into a bowl. Add salt and water. Stir until yeast is completely dissolved.
3. Add the garlic, chili and flour, little by little until the dough looses from the bowl easy.
4. Take the dough up on baking table and give it a good kneading. 5 minutes at least.
5. Put the dough back into the bowl and cover it. Let it rise for at least 1 hour, preferably 2.
6. Once again take it up on table, give it a quick knead to get all air out.
7. If you want to split into 2-6 pieces. Bake into the shape of a baguette (or what you prefer) the smaller bread you want, the more pieces you divide the dough into.
8. Put the shaped dough on buttered, or oiled baking tin(s). Poor some olive oil over the breads and gently stroke it out. Cover with plastic foil, this prevents the dough from getting dry. Yet again leave it to rise, for an hour or until it looks ready. Turn on the oven at 230 degrees celsius.
9. Cut the bread diagonaly a few times. Put in oven for about 10-20 minutes, smaller bread shorter time. Spray with water a couple times in the beginning, first when you put them in and the next time a minute or two after. For larger breads you could spray one more time after two additional minutes. The water helps you get a nice crust on the bread.
You can follow any responses to this entry through the RSS 2.0 feed. Both comments and pings are currently closed.